Main
»
2009
»
May
»
18
» DepositFiles Filemanager (version 0.9.7)
---
9:14 PM
DepositFiles Filemanager (version 0.9.7)
DepositFiles Filemanager (version 0.9.7)

Note: this software is free if you sign up as an affilate for DepositFiles from following DepositFiles Link below. Otherwise it will not work.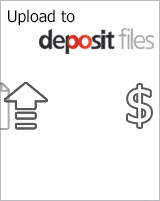 D
epositFiles
F
ilemanager (version 0.9.7)
Download files quicker with new DepositFiles downloader!
Download from DepositFiles with new DepositFiles Filemanager!
• Plenty of files downloaded fast and comfortable!
• Continuing of interrupted file downloading even with another IP or Profile!
• Immediate check of links validity!
Creating the program we tried to take into account all user's needs, so here you can get lot's of useful functions, such as:
• all unfinished downloadings are saving with "df" extension and the downloading processes
may be continued on any other user with any other IP address.
• multithread download provides high speed of file downloads
• the program itself detects all links to DepositFiles on a page
• there are plenty ways of adding links so you can choose the most comfortable for you.
• the program provides many operations with links: group, export, import, establish priorities etc.
• the program gives you a possibility to download a link out of order (forced download)
• user-friendly interface
The program is free for all DepositFiles users!
Category:
Download n Internet
|
Views:
730
|
|
|